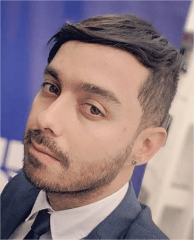 Prof. Valencia-Arias
Corporación Universitaria Americana, Colombia
Professor Valencia-Arias received the Ph.D. degree in Management Engineering in 2018 from the National University of Colombia, the Master of Sciences degree in Computer Sciences in 2013 and Bs. Eng degree in Management Engineering in 2010. He has ten years of experience as a university professor.
Prof. Valencia-Arias is editor-in-chief in Revista CEA. He has published in his areas of interest, and among his offerings are three books and over 65 journal articles in national and international indexed journals (h-index in Scopus: 11). Prof. Valencia-Arias has the distinction of Senior Researcher of the Ministry of Science, Technology, and Innovation (MinCiencias) in Colombia. His research includes entrepreneurship, simulation, marketing research, and statistical science. He has experience in agent-based modeling and system dynamics, especially in the development of social models.

Speech Title: Factors Related to Adopting Open-source Software in Higher Education Iinstitutions (HEIs) in Developing Countries
Abstract: Technological integration in society is an important factor in socio-economic growth, so accessibility and development in developing countries are important to ensure equity in the opportunities of the globalized world. Open-source software (OSS) represents a tool to promote the use of technologies within educational institutions and in SMEs, promoting knowledge and access. This study then wants to recognize the factors related to adopting OSS in higher education institutions (HEIs) in developing countries. The Technology Acceptance Model (TAM) is used, integrating qualitative and quantitative variables through a questionnaire distributed to HEI students in Medellin, Colombia. The analysis of the information allows determining that some factors for adopting OSS among students are skills development, training, and usability, as well as aspects related to the quality of the OSS. The proposed model associates variables specific to the context of developing countries, thus reducing the gap in the literature on the subject.