CSEE 2020


CSEE 2020 was hosted by University of Barcelona, Spain, and technically supported by Valdosta State University, USA, The University of Huddersfield, UK and Technical University Gh. Asachi Iasi, Romania. It, originally scheduled to be held in Barcelona, Spain during June 10-12, 2020, had to be held online due to coronavirus outbreak.

The successful holding of this online conference is indispensable to the efforts of the conference chair, four keynote speakers, committee members and participants. We hope we can go to the beautiful University of Barcelona for face-to-face exchanges next year.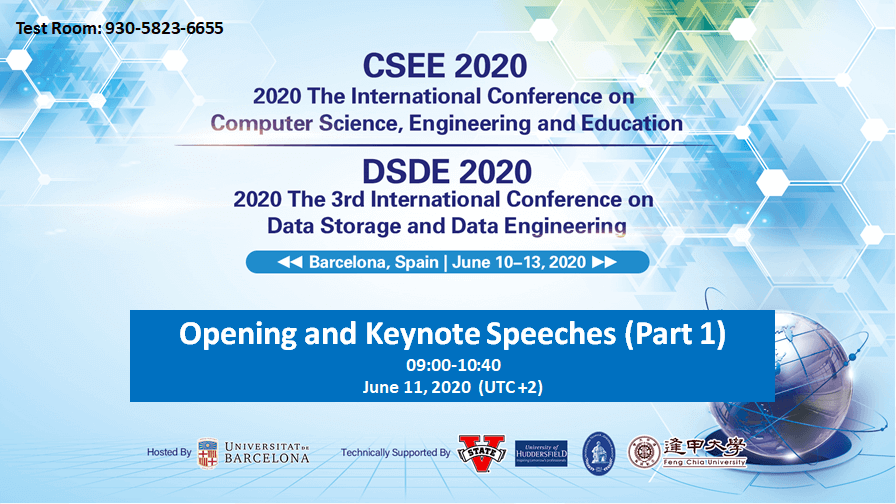 Prof. Mario Barajas Frutos
University of Barcelona, Spain

Organizing Committee Representatives

The conference lasted for four days with not only keynote speeches but also parallel sessions. Due to time difference, four keynote speeches are divided into two parts.

Prof. Xabier Basogain Olabe
University of the Basque Country, Spain
Speech Title: STEAM Education and ICT Tools

Prof. Yu-Dong Zhang
University of Leicester, UK
Speech Title: Medical Image Analysis via Recent Deep Learning Approaches

Prof. Jin Wang
Valdosta State University, USA
Speech Title: On Kernel Principal Component Analysis and its Application

Prof. Len Gelman
The University of Huddersfield, UK
Speech Title: Novel Spectral Technologies for Stationary and Non-stationary Nonlinear Systems

Our participants were from China, France, Greece, Indonesia, Japan, Spain, Taiwan, Morocco, Romania, Russia, UK and USA. They were divided into two technical sessions, and each session selected one best presenter.

Session I Best Presenter

Session II Best Presenter

Paper ID: EE3009
Presenter: Maria Massri
Organization: Orange Labs, France

Paper ID: EE1035
Presenter: Nuri Ardilah Zakiah
Organization: Universitas Pendidikan Indonesia, Indonesia